-- This years company vacation is dated 20.07. - 04.08.2019 --
Welcome,

we provide you with a wide range of products: from finished candles, candle raw materials such as paraffin wax and wicks up to candle molds and melting equipment - all best quality at reasonable prices.


Sale of candles, candle raw materials and candle makers need also directly from factory to end users in our online shop Kerzenkiste: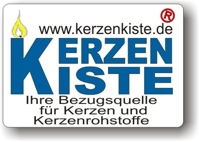 ---
Should a question remain open-ended, don't hesitate and get in touch with us. We'll do our very best to find a solution.
We are one of the most capable candle bottlers in Europe. Here's a small insight into our production.
We offer high quality wax fillings from single copies up to large series with over 100.000 pieces, all high quality at reasonable prices. We also manufacture candles in customer provided vessels, such as beer and other beverage glasses.
We offer all types of wax fillings: From paraffin and stearin to gel wax, soy wax and rapeseed wax.

Our product range includes candles from our own production, standard candles manufactured according to RAL (pillar candles, ball candles, square candles and much more) as well as candles from self-import with best value for money.